Client Testimonials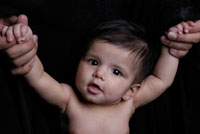 Hi Andrea, I had a look at the proofs and love them! I didn't think you were able to capture so many good shots, given how serious she was, but I think you really captured her personality! I especially love the collage...great choice of pics!
Michelle - Markham, Ontario
---
Dear Andrea,
I would like to thank you for making my photo sessions so enjoyable. When I decided to do a boudoir session for my husband as his first wedding anniversary present, I was nervous and not sure if I could go through with it. But once I met you, you made me feel comfortable. I was able to have fun, and I ended up with some great pictures that my husband was really pleased with. After the session was over, I felt so libertated that I called up my friends and told them how much fun it was, and that they should get some pictures taken...if not for their man, than for themselves. The pictures were so great that nine months later, my husband and I took maternity pictures. I'm glad I met you so that you were able to capture this special time in our lives.
Hilary - Ajax, Ontario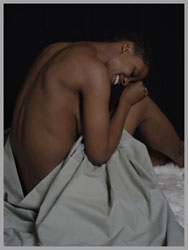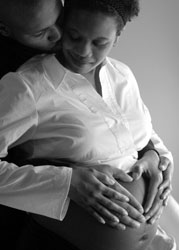 ---
To Whom it May Concern,
My work brought me to Andrea Rees. After conducting a search on the Internet for local photographers specializing in intimate boudoir portraits I found her site and it stood out from all the rest.
Being a woman I was comforted to know that another woman was not just a photographer but also a superb artist capturing the sensual inner being of her subjects. Andrea's use of low lighting and rich skin tones caught my eye and within a day I had booked my appointment.
I am not a model, as a matter of fact I have never enjoyed having my picture taken and believed myself to be absolutely not photogenic. Andrea changed all that. She helped me to laugh and feel welcome, her natural warmth eased all the tension from me within minutes.
The net results are the finest photographs of myself I have ever seen in my forty-some years and I truly had a terrific time. Thanks to Andrea all my physical flaws melted away under her watchful lens that stunned me, never would I have thought that possible!
I would highly recommend Andrea Rees for any type of photographic requirement anyone may have. She has an artistic sensibility that reminds me of a great painter, and having a degree in Art History, I know of what I speak.
Andrea sees our inner and outer beauty, she intuitively knows how to pose us to bring out the best in us and capture it in a flash of pure perfection. As a matter of fact I hope to have my image and those of my friends, family and colleagues created by Andrea over and over again. She is a rare talent.
Sincerely,
Joanne - Toronto, Ontario