Who doesn't love Tim Horton's? Even if you're not a coffee drinker (like me), they have all kinds of tea, hot chocolate and yummy treats OR you can gift a loved one.
I love hearing about traditions, tell me about your family's Christmas or Holiday tradition.
Andrea Rees Photography is giving away…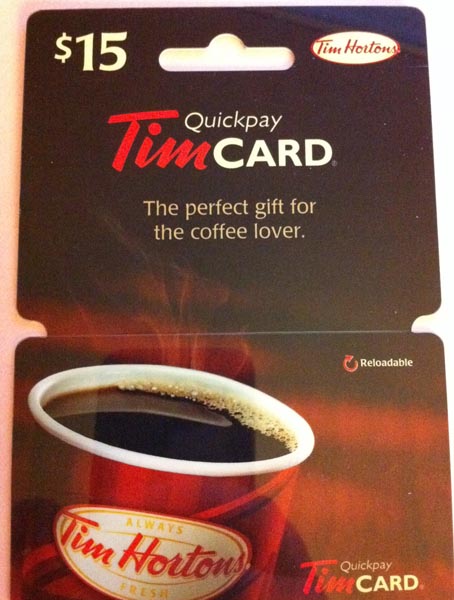 Today's giveaway will be a random draw so you all have an equal chance to win! Good luck.
Read below for details on how to enter today's giveaway and how to get extra entries for the Grand Prize draw valued at approximately $1100!
Until next time,
AR
——————————————————————————————————-
DETAILS:
From December 5 to 16th I will be giving away 1 gift card every day for 12 days!(iTunes, Starbucks, Tim Horton's and Toys R Us). Perhaps you'd love a gift card for yourself or maybe as a gift for someone this holiday season, whatever the reason,  join the fun and WIN!
At the end of the 12 days all entries will automatically be entered into the Grand Prize draw. ARP will be giving away a portrait session package worth approximately $1100 on December 24, 2010. The Grand prize must be redeemed by August 31, 2011.
In order to participate you MUST:
be 18 years of age or older
be a Canadian resident
**To submit an entry for the daily giveaway you must email at info@andrearees.com telling me about your Christmas tradition. Please put 'Day 10' in the subject line and include your full name, email address & phone number as well as the name of the person you nominate. Don't forget to include your contact information or you may be disqualified as we will be contacting you directly by email and/or phone if you have won.
To enter the Grand Prize Draw and to gain extra entries (the more entries, the better your chances of winning) you must do at least one of the following:
'like' the Andrea Rees Photography Facebook Page and email me to let me know.
follow me on twitter then tweet me and say "1 entry for the Grand Prize".
subscribe to the ARP News list then email me and let me know you'd like an entry for the Grand Prize
subscribe to the Blog feed then email me and let me know you'd like an entry for the Grand Prize
comment on a post on the Andrea Rees Photography Facebook page and let me know it's an entry for the Grand Prize
by tweeting the link to a giveaway blog post and referring to @andrees
by referring your family & friends to the ARP Facebook page (share the giveaway link on Facebook, twitter or via email). When one of your friends submits an entry to any of the giveaways and/or the Grand Prize draw and mentions your name you will receive an additional entry. There is no limit.
If you already 'like', follow and subscribe just let me know when you email your entry for the day and you will also receive extra entries where applicable.