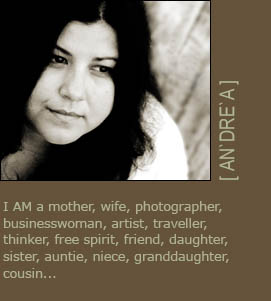 A Word from the Artist:
My first experience with a "real" camera was when I joined a photography club at 12 years old. I still remember walking around mid-Toronto in 1983 taking pictures of architecture, people and objects. My love for photography began then, but it wasn't until 2003 that Andrea Rees Photography opened for business in my tiny studio in downtown Toronto. Four amazing years later and my studio is in a much bigger home in Mississauga, Ontario so I can be closer to my husband and 2 year old (almost) son.
My photography has definitely evolved over the years. While I still love to capture beautiful scenery and inanimate objects, my real passion and inspiration are people. I strive to create images that are filled with emotion yet are natural and artistic.
It is a privilege to be a part of so many intimate moments and important times in the lives of my clients. It is a responsibility I take to heart. To know that the images I create will be cherished, not just by this generation but for generations to come is a remarkable feeling. I thank you for your trust to let me do what I do.

My style:
In January 2007, Mr. Joe Farace wrote about children's photographers around the world in Shutterbug magazine. I was mentioned in his article and I feel his words describe my work better than I could say.
"the work of a photographer of children who expands the genre's definition to embrace both falling down cute and art".
"The Newborn/Baby Gallery includes wonderfully inventive images of tiny babies being held by their parents, but center on the child. Parents are only seen as arms and legs dressed in black. By eliminating the cute, Rees creates perceptive images of these children. You'll find older kids in the Children's Gallery that focuses more on the child's personality, much as a portrait photographer would work with an older subject. The Relationship Gallery lets the parents come out of the background and take center stage with kids of all ages where Rees captures spontaneous moments of bliss that are a delight to behold. The Maternity Gallery shows artistic images, many in monochrome, of mothers-to-be, some of them tastefully nude".
To read the whole article, please visit here Shutterbug magazine, Jan. 2007
Please browse through the galleries to view my work and if you are looking for natural, artistic and emotive images of you and your loved ones, I am only a phone call or email away.
I look forward to meeting you
Andrea Rees